As well as we rely on technology to transfer money and pay our bills, book a holiday trip or communicate with your friends and family, dentistry has also opened a wide door to the world of digital devices and technologies. And we, at Rifat's Laser Dental or Surecell Laser Dental, are happy to welcome you in this digital revolution!
We have left conventional dentistry behind and opened our doors to every technology including all types of Dental Laser System and every piece of equipment and tool that is helping us perform more accurate diagnostics, safer clinical procedures and reduce trauma and post-operatory healing times. This is what Digital Dentistry is about. We strongly believe that this is the approach that will improve our patients' quality of life. And we are proud to say that we are being successful in achieving this.
We are committed to continuous improvement and will continue to concentrate our efforts in finding every opportunity available to introduce digital technology and new equipment and processes into our daily activities, because this is what will help us become better professionals capable of providing 'better than excellent service' to the community. And all… because you are the most important reason why we exist.
We encourage you to browse through our website pages and discover our advancements into the world of Digital Dentistry. If you have a question or want to know more, please give us a call; we are happy to help you.
Digital Dental Impression - A new addition...soon
Just like we rely on technology to pay our bills, book a holiday or communicate with our loved ones, Dentistry has also opened a door to the world of digital devices and technologies. We have moved forward with every piece of our equipment helping us perform more accurate diagnostics, safer clinical procedures and reduce trauma and post-operatory healing times using most advanced Laser equipments.
This is what we call 'digital dentistry'.
The team at Rifats Laser Dental and Surecell Laser dental Aesthetics are constantly evolving to help patients receive the best treatment. One of the ways we are planning this is with the latest digital impression system technology.
Traditionally, taking impressions for restorative dental work was a laborious task. You would have had to bite down on a sticky, putty-like impression material, this would then be hardened and eventually sent off to the lab where your restoration would have been fabricated.
Soon, with Digital Impression System, it will be a simple process. We will take the digital impressions of your upper and lower jaw and then email those straight to the laboratory.
How does the Digital Impression System work?
The Digital Impression System is an intra-oral 3D scanner that is faster, easier, and more accurate. This impression system is able to be more accurate because it is a spray-free system. What spray-free also means for you is the scanning process is more comfortable than other types of intra-oral scanners, as well as faster.
Another aspect of the Digital Impression System that makes it faster is its ability to capture more than 3000 2D images per second; making it 100 times faster than typical video cameras.
Why Digital Impression System is good for you
This system is beneficial to both dentists and patients.  Faster more accurate impressions sent directly to the lab cut down waiting time and work towards producing a better quality of restoration.
5 benefits to patients:
Improved clinical results
Better restoration fits and minimal adjustment
Quick and more-comfortable experience
Reduced number of appointments
Reduced time in in-chair
Most restorations do not need any adjustment whatsoever ensuring perfect fit.
Helping patients receive the quality care they deserve
Here at our clinic, our team work closely with our patients to provide the best in dental care. We are proud to offer superior dental treatment at an affordable price with some of the best dental technology currently available.
Back to top
Dental Software: Dental Practice Management System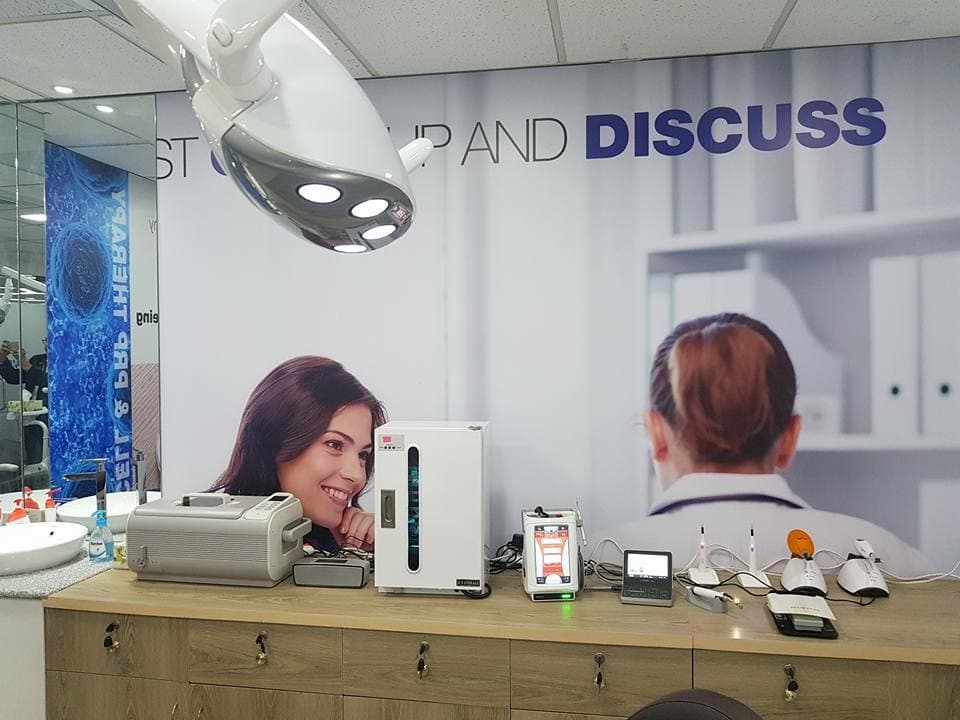 Your dental records and appointment scheduling are all managed in our dental practice management system.
The Digital Revolution is changing the world: computers and digital devices are making what were previously manual tasks easier, faster, cheaper and more predictable.
Even in dentistry, digital technologies are rapidly advancing: intraoral, desktop and face scanners, cone beam computed tomography (CBCT), software for computer-assisted-design/ computer-assisted-manufacturing (CAD/CAM) and fabrication procedures like milling and 3D printing are changing the way we treat our patients.
Back to top